Get thee to thy stashes, costumers of the world, Haiti still needs you!
On my trip last summer, I discovered that a couple of the orphanages were asking for donations of fabric. Now this, I knew, was a place where we could help, a great opportunity to clear out your stash and get rid of offcuts and buying mistakes to that very good home that you always knew was out there somewhere.
Well, here, for the first time, is that all-important address:
Marlaine Alix
1299 SW Kalevala Drive
Port St Lucie, FL 34953
United States of America
Marlaine is teaching the kids at her Faith and Love Orphanage in Jacmel to make tote bags to sell. It's brilliant: not only does that go some way to making the orphanage self-supporting, but it teaches the children a skill and a useful trade that they can benefit from later, in order to begin rebuilding their economy and their community.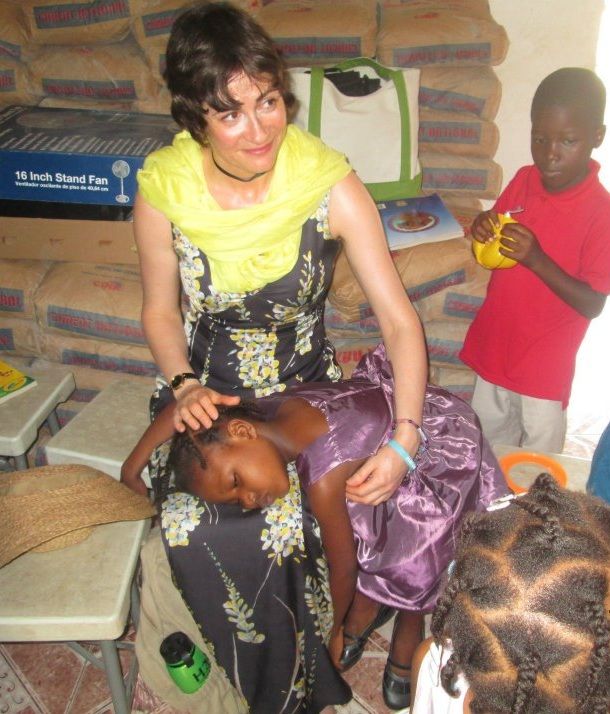 This is one of Marlaine's orphans. During a long, noisy play session, she saw me sitting off to the side of the room and, without addressing me or engaging me at all, quietly came and sat next to me. Then she rested her head on my lap, and fell asleep. This was my favourite moment of the whole trip: highly sensitive types can always spot each other. [Photo by Hannah Milton, used with permission]
Marlaine told me that
they can use anything you've got
- if you send scraps, she'll teach them to make quilts! Additionally, I'm sure she'd appreciate thread, needles, and spare notions, and they do use some sewing machines, so supplies like generic sewing machine needles would be welcome too, I'm sure.
The reason for the long delay is that I made a fantastic video with Marlaine in June in which she herself explained all about the orphanage, all about sewing the bags, why they were doing it and what exactly she needed. I thought it'd be awesome if she could speak to all of you directly.
Well, when I got back to England, I had a ton of little videos, and some of them turned out fine, but some of them would not play at all... including the crucial one with Marlaine. I have tried and tried with great frustration to get it working, and consulted someone who really knows this stuff (thank you Jeremy and Laurie), and he also could not fix them, so I have finally had to admit defeat.
On the positive side, we are now at a time of year when people are clearing out and re-organising, so hopefully there is lots of fabric to be had. So, get thee to thy stashes, costumers of the world, Haiti still needs you!
PS. In a few days I'll have a second address for you, but the second place needs more specific things, so if you have decent lengths, a few yards perhaps, of summerweight cotton or linen to donate, keep them back for now!